Tsoknyi Humanitarian Foundation
Unite ⋅ Secure ⋅ Sustain ⋅ Inspire
We believe empowering nuns and girls through education and opportunity makes the world a kinder place.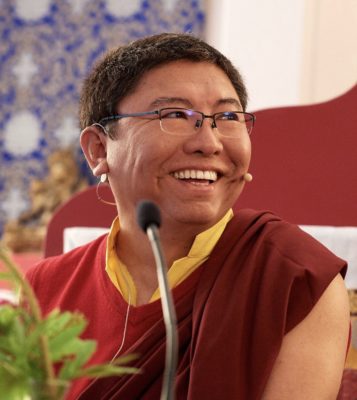 "When people meet the nuns, even when conducting the simple tasks of daily life, they are changed for the better. How does this happen? It is because they have become a living source of peace, love, and compassion."
~Tsoknyi Rinpoche
Meeting the Unanswered Needs of Himalayan Girls
 
  Providing Equitable Opportunities to Women for Higher Study and Training
Cultivating Female Dharma Teachers, Leaders, & Role Models
The new school year at Tsoknyi Gechak School began May 1, 2023. Please enjoy the latest newsletter, Semkyi Rangda – Tsoknyi Gechak
Read More »
Guru Rinpoche Day is celebrated each month with a daylong puja performed by the Shedra nuns at Tsoknyi Gechak Ling with many
Read More »
A group of the anis (nuns) from Tsoknyi Gechak Ling shedra recently enjoyed a videography class with friend and filmaker Paul MacGowan.
Read More »
Join our mailing list and receive a free link to 10 chants of the Nuns of Tsoknyi Gechak Ling entitled "Enlightened Courage".
Please enter your name & email address below: